Saturday – Thursday: 09:00 AM – 13:30 PM & 16:30 PM – 20:30PM
Friday: 09:00 AM – 13:00 PM
Admission is KD2 for adults
Admission for school trips is free
The same ticket can be used at both museums
Saturday – Thursday: 09:00 AM – 12.00 PM & 16:00 PM – 19:00PM
Friday: 09:00 AM – 12:00 PM
Admission is KD2 for adults
Admission for school trips is free
The same ticket can be used at both museums
Saturday – Thursday: 09:00 AM – 13:30 PM & 16:30 PM – 20:30PM
Friday: 09:00 AM – 13:00 PM
Admission is KD2 for adults
Admission for school trips is free
The same ticket can be used at both museums
Welcome To The Tareq Rajab Museum
Established in 1980 by Tareq S. Rajab and Jehan S. Rajab, the Tareq Rajab Museum houses a collection of over thirty thousand items collected over the last sixty years, of which approximately ten thousand are on permanent display. While the museum is often referred to as a single entity, its collections are displayed across two nearby locations. The "Tareq Rajab Museum", is the original museum founded in 1980 and is home to the collections of  Islamic manuscripts, ceramics, glass, metalwork including the Bronze Door of Sultan Barquq, Islamic arms and armour, a large collection of silver folk jewellery, textiles, embroideries, costumes, musical instruments and orientalist artwork. In contrast, the "Tareq Rajab Museum of Islamic Calligraphy", which was founded in 2007, displays a range of mediums for Arabic script including manuscripts by famous calligraphers and scientists such as Yaqut Al-Musta'simi, Sheikh Hamdullah Al-Amasi, Ya'qub Ibn Ishaq Al-Kindi and Qusta Ibn Luqa Al-Ba'albaki, contemporary calligraphy and art, as well as decorated ceramics, metalwork, glass and textiles, such as four Burqa's (curtains of the Holy Ka'aba's door) located at the centre of the museum and a curtain from the inside of the shrine of the Prophet Muhammed (PBUH) in Medina.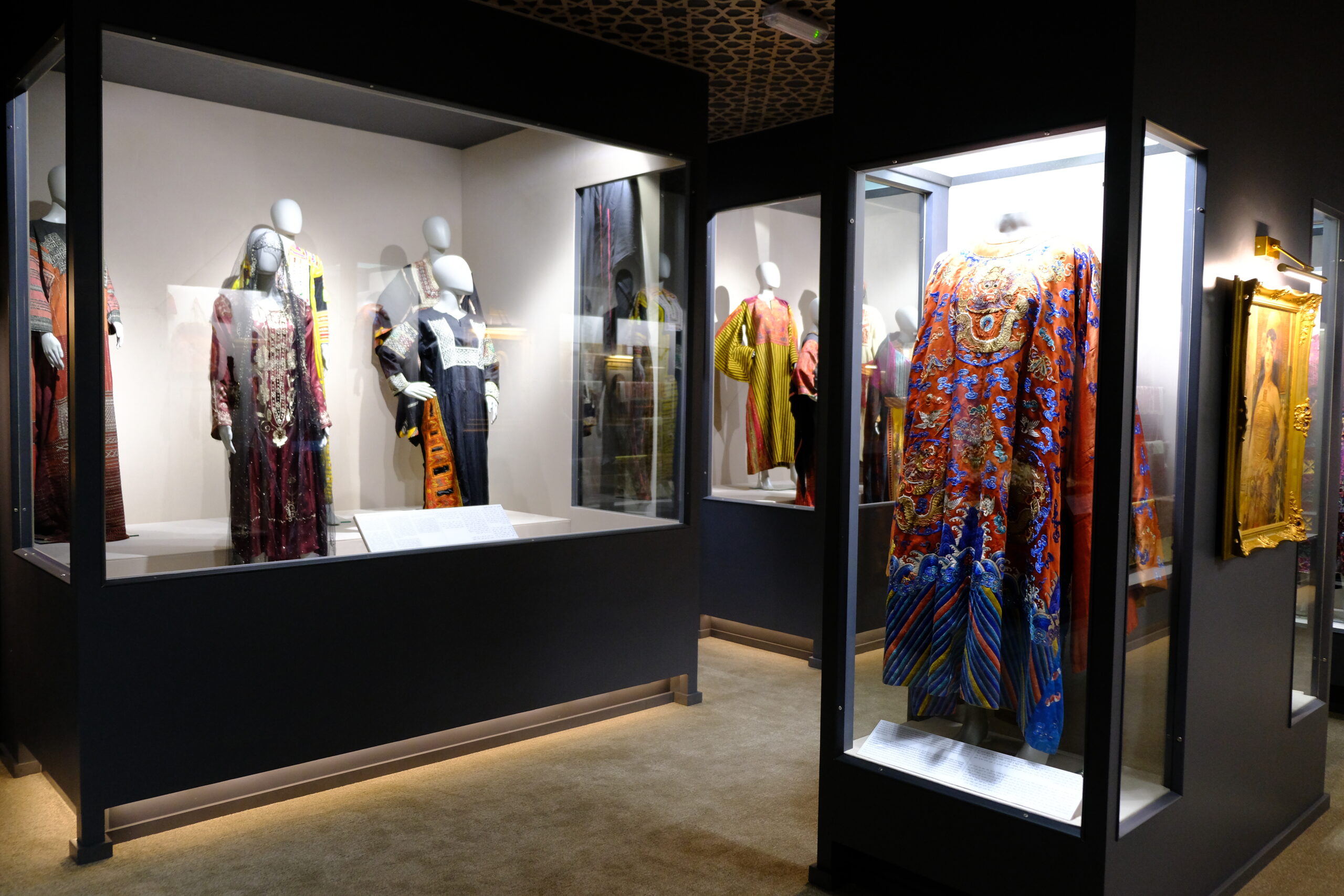 Textiles, Embroideries & Costumes
The museum houses an extensive range of textiles, embroideries and costumes, with examples from Syria, Palestine, Jordan and Ottoman Turkey. Noteworthy examples include a number of Coptic weavings (5th century AD) and early Islamic pieces (8th century AD) from the Tiraz workshops of the Islamic court.